Top 5 Ways to Create a Collaborative Virtual Team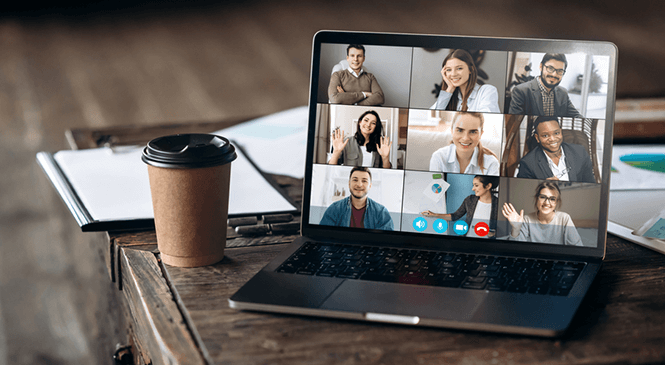 All employees need connection. Even the most independent workers on your team are still, well, part of a team. Learning now to engage them in that way can be challenging, especially if they or others in your organization work remotely.
But any good leader understands that no one's social needs should go neglected. If you're looking for a way to prioritize interpersonal relationships between your remote teams, start with these proven virtual work culture initiatives.
1. Let Your Company Values Lead.
When you Start With Why, as author and inspirational speaker Simon Sinek recommends, you inspire others. Though everyone's individual 'why' is personal, great businesses have a version too: their company values. This is more than just a collection of feel good copy on your site. It's the driving force behind why your business exists in the first place. Getting your team aligned with the mission and vision comes with a sense of unification. Your lived company values also provide a solid platform upon which employees can all connect on a deeper level.
2. Start From Day One.
Company culture is communicated during every conversation you have – and those first ones are particularly important. The on-boarding process in particular is a prime opportunity to begin building the right cultural foundation – and that often starts with support. According to research from Asana, nearly eight out of 10 new hires reported that they experienced a sense of self-doubt related to their work accomplishments in 2020. With a dedicated mentor, employees can better connect to your culture and to each other knowing they have a go-to as they settle in. It's a tangible lifeline while they're learning and integrating, one that helps them feel what a supportive work culture really means.
3. There's No Such Thing As Over Communicating.
So long as you're not blowing up someone's inbox, regular communication and even over communication can solidify a strong virtual culture. Think about it: when you're not in the office making small talk or in meeting rooms together, so much can get lost. Make it a point to be demonstrably kind and friendly in your chats and emails. Use that extra emoji, ask that question about their pet, invite feedback, even if it's critical. Remember that it's just as important to communicate how you will celebrate your wins together as it is to say how you'll stick together during challenging times.
4. Make Space for Casual Conversation.
Engaging in non-work talk is one of the main ingredients when building relationships. By nurturing opportunities to have spontaneous conversation and be vulnerable, you allow for deeper connection. The safer and more comfortable employees feel when gathered "together", the more rewarding things like virtual group lunches, team outings, or company-wide celebrations will be.
5. Provide Tools for Connection.
Just sending documents back and forth over email is likely to isolate your staff. The more interactive communication tools you can add to your suite, the more engaged your remote teams will be. These collaboration and connection platforms help make it easier for everyone to work together and share in your company culture. Just make sure staff also have updated devices that won't impede or slow down those direct lines of communication.
Company culture is part of everything you do. It comes through on your website. It shows in your products. And most importantly, it's either enhanced or hindered by each remote team member you have. With a savvy and attuned leader at the helm, you can help nurture and preserve meaningful workplace connections, even if you work in different places.
<< Back to Resources