Managing Today's Cybersecurity Demands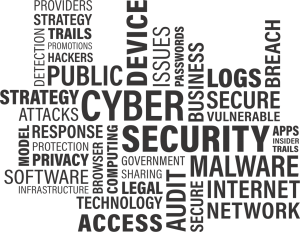 News-breaking hacks occurred in rapid fire in 2017, with invasions ranging from global data breaches to ransom campaigns. As we continue through 2018, managers are forced to contend with protecting their infrastructures from broader security risks, and can no longer focus on specific attack techniques. The proliferation of the Internet of Things will put at risk smart-technology dependent industries such as airlines, hospitals, manufacturing, and cars. Other enterprises are faced with the challenge of managing cybersecurity for mobile businesses and protecting breaches from laptops, phones, and other mobile devices performing device-to-cloud tasks.
Security threats have evolved from a limited number of computer viruses to hundreds of millions of threats. The priority is no longer individual attack prevention. Managers must prepare a holistic security program that considers the larger attack surface, particularly web application development. Art Coviello recently had the following to say regarding the larger picture of cybersecurity.
"Today's attack surface is broader, more open, and demands a proactive approach to security, according to former RSA chairman Art Coviello.
As the threat landscape changes, so too do demands on cybersecurity leaders and their teams. Art Coviello, executive chairman (ret.) of RSA, says today's defenders should be more concerned about vulnerabilities in the attack surface than on threat actors' specific techniques.
"What people don't get about the threat landscape is, it's less about the techniques and more about the attack surface, and the number of openings that have been created."
Source: DarkReading.com interview with Art Coviello during the RSA Conference.
Managing Cybersecurity for the Future
How can managers approach this broader threat? Management teams must have sufficient knowledge of the threat landscape and their operational processes in order to balance business and operational benefit with security. Managers must also be relied upon to identify and prioritize critical assets, applications, and infrastructure so that they may be proactively protected from attackers. Without this leadership, security centers can become overwhelmed with the alerts raised by the growing number of threat intelligence tools.
While proactive security programs are the right solution, implementing these programs has posed a challenge for many managers. There is a critical shortage of key personnel to be able to implement these extensive measures, and they come at a high human resource acquisition cost.
Outsourcing the entirety, or a portion, of your security risk-management to a trusted third-party partner is one avenue managers can take to increase their protection against cyber threats. Partnering with a managed security provider can enable a manager to create a more robust solution with a better allocation of budget resources. Managed security providers can provide a resource that can be scaled up or down, depending on current priorities. A third party partner will also be trained in all regulation and compliance demands and can provide a neutral assessment to maintaining compliance.
Learn more about additional benefits of Managed Security Services by contacting an iT1 professional today, and discover how managed resources can protect your priority platforms against the next wave of cyber-attacks.
<< Back to Resources