Partnered with Aruba, we believe that the most dynamic customer experiences happen at the Edge. Our mission is to deliver innovative solutions that harness data at the Edge to drive powerful business outcomes. iT1 can help you simplify your network by finding its AI-powered sixth sense.
Our Shared Values
We are always customer first, customer last.
We don't develop technology for technology's sake—everything we do starts and ends with our customers.
We are unconventional and innovative.
We have never been a traditional networking company; since the beginning we had to change the rules to survive. This is reflected in everything we do.
We are the biggest small company.
Over the years, we've maintained our core value of being the biggest, small company—treating our customers and employees like family while remaining nimble and ahead of market shifts.
Our Services for Aruba
iT1 and Aruba work together to simplify your network.
Network strategy, security, engineering and design
Competitive pricing on all Aruba products and services
Aruba first-level support
The Aruba Hybrid Workplace
Reimagining the workplace in three phases:
Work from Home
Includes Aruba's Secure Remote Access solutions such as RAPs and VIA to ensure business critical, secure connectivity and a seamless experience or users
Return to Office
Includes contact and location tracing, contactless visitor management, video and AI-based health monitoring, and additional use cases enabled by a broad set of ecosystem partners
Hybrid Workplace
Allows users to move seamlessly between home, office and the road and encompasses connectivity, security and health/safety.
Meet Aruba ESP (Edge Services Platform)
Aruba's recently announced Edge Services Platform (ESP) shows Aruba's end-to-end strategy and ability to deliver technology solutions quickly, and in an integrated fashion.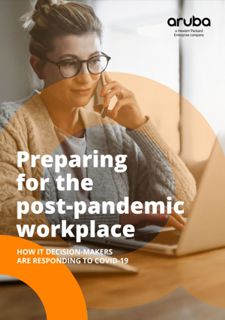 Securing the Distributed Workforce
Ensuring Connectivity and Availability in the Post-Pandemic Workplace
With recent developments around Covid-19, the previous model of work and corresponding infrastructure has been disrupted again. Customers need a way to
enable and secure a fluid remote workforce.
Setting up IT for Success
Harnessing the power of the Edge in the new hybrid workplace
The new normal will be a hybrid workplace where work from home and the location-aware office take center stage. Where technology and the network support things like contact tracing, density planning, and heat mapping — all in a seamless and secure manner — to keep employees safe and productive.
CONTACT iT1 TODAY!
Ready to Get Started?
Contact iT1 today and start maximizing your IT investments.
Phone: (877) 777-5995
Local: (480) 777-5995
Fax: 480-777-5994
Email: [email protected]

iT1 Office Locations